Great Bath - Bagno Grande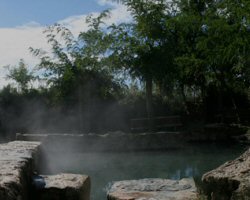 The "Bagno Grande" (greath bath) is easily reachable by foot from the main square of San Casciano, passing by a peaceful wood equipped with an exercise path for fitness lovers.
You will be captured by the enchanting ancient washing places fed by thermal waters, called by locals "vasconi"...
Copyright 2023 Consorzio San Casciano dei Bagni Terre e Terme. All rights reserved.